You can adapt the "City Break" concept, for a Spring Bridge for example, to offer a "Havana on the Move" package for a few days, with the option of pre-booking certain visits, activities, shows and/or meals, or even deciding on the spot using the services of our concierge.
Cuba es La Habana, y lo demás es paisaje
"Habaneros" have a saying: "Cuba es La Habana, y lo demás es paisaje" (Cuba is Havana, everything else is landscape). Three or four full days are not enough to reveal all the secrets of this capital city with its rich architectural history: colonial, art deco, 1950s style, modern buildings, and Soviet-inspired architecture from the 60s and 70s.
The magnificent colonial palaces of Old Havana coexist with rundown buildings. 1950s Chevrolets, Buicks, Cadillacs share the streets with Ladas, Moskvich, or more recent Japanese cars, while Coco-taxis, horse-drawn carriages, bicycle-taxis, or other "chivichanas" (a kind of handmade Cuban skateboard) struggle to navigate through a certain urban chaos.
No one leaves Havana without strolling along the Malecón, the seafront promenade, adorned with sublime colors in the last rays of the sun. And when the sun sets, the Latin Fiesta awakens and lasts all night.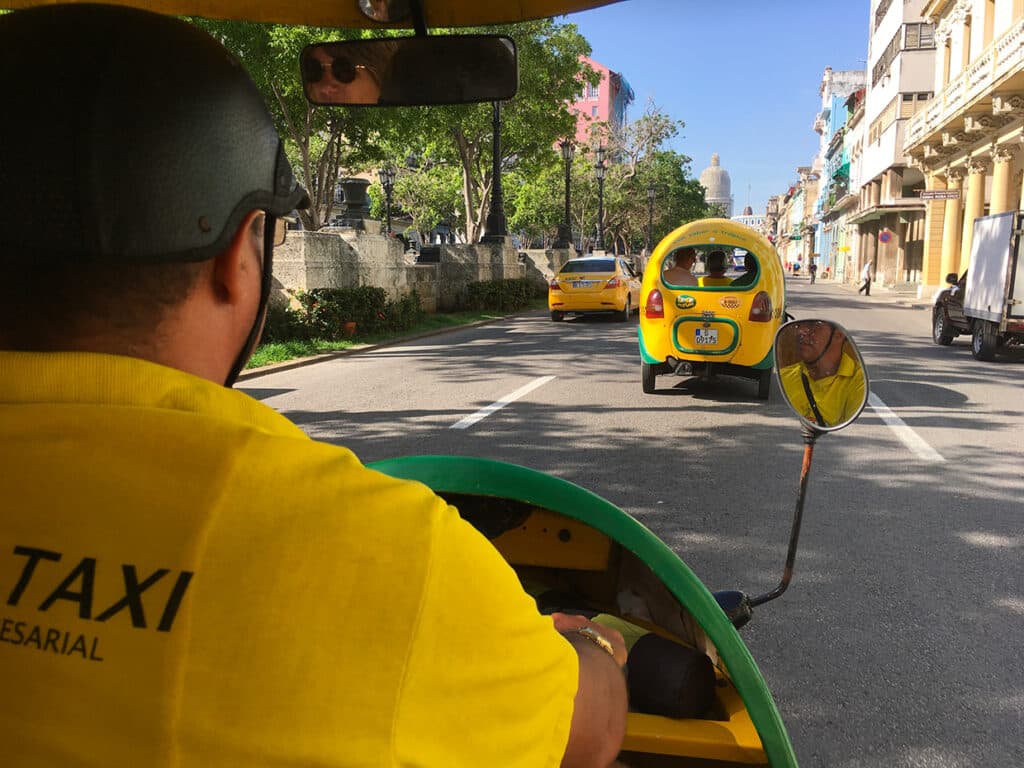 Témoignages
Super bien passé ! Guide plus que parfait ! Une très bonne note pour le guide qui a été très à l'écoute ! Les hôtels et restaurants étaient biens, certains seraient bien restés 2 ou 3 jours de plus. Les familles ont apprécié donc résultat POSITIF !
Nous sommes enchantés de notre voyage. Merci pour le suivi de notre dossier et à toute l'équipe Lyonnaise et Cubaine !